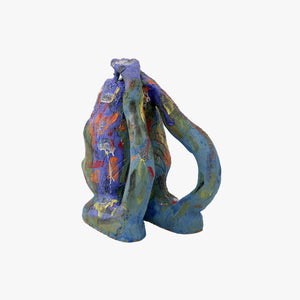 ◄ Overview
William J. O'Brien
Blue Hug Vessel
"Often I think that it can be very detrimental to sit down and think too much about why we make art," says William J. O'Brien. "It will only lead towards more doubt, self-sabotage, disillusionment and neurosis." This is a characteristic comment from an artist whose works, by his own account, are like wrestling matches with private demons. Yet if there is something fragile and awkward about his objects, they also express a particular kind of joy, as if amazed by the sheer fact of their own existence.
Artist
William J. O'Brien
Material
Ceramic
Contributing Gallery
Marianne Boesky Gallery
Date
2016
Dimensions
24.5 in × 15 in × 19 in
62.23 cm × 38.1 cm × 48.26 cm
ID
boeskywob01-ind01
Image credit: Courtesy of the artist and Marianne Boesky Gallery, New York and Aspen. © William J. O'Brien.