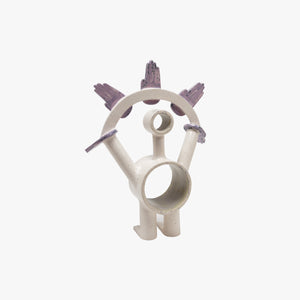 ◄ Overview
Bruce M. Sherman
To Fully Engage in the Moment
Bruce Sherman was once asked to describe the ideas active in his work. Here's what he came up with:
To listen fully
Being open
Prayer
Searching for finer energies (often through humor)
Searching for my true Self
Quietness
Our animal nature
New birth / newness (eggs)
It's a wonderful list, the opposite of systematic; and it affords a rich view into the artist's inner life. His ceramic sculptures exemplify these various principles; they are a cast of characters who have wandered free of his imagination. Sherman realizes them in an ongoing act of improvisation, purposefully playful, almost like a toy-maker. The sheer pleasure of that invention comes through.
Artist
Bruce M. Sherman
Material
Glazed ceramic
Contributing Gallery
Nicelle Beauchene Gallery
Date
2017
Dimensions
21 in × 18 in × 6 in
53.34 cm × 45.72 cm × 15.24 cm
ID
beauchenebs02-ind01
Image credit: Courtesy the artist and Nicelle Beauchene Gallery