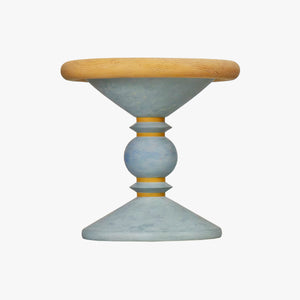 ◄ Overview
Martin Puryear
One Handed Stool
Great sculptors have been making furniture for – well, as long as there have been great sculptors. Even so, it is a special opportunity to witness an artist of Martin Puryear's magnitude apply his skills to functional form. It is not a great leap for him, arguably, as his suggestive abstract forms nearly always include some allusion to material culture. His One-Handed Stools, produced in a limited edition of 25 for the New Museum of Contemporary Art, are (again like almost all his work) deceptively simple. They are composed of five elements: a top, bottom, and central sphere hand-turned in soft pine, which are connected by two machine-turned, crisply edged joints made in hard maple. The shift in profile and material may not be immediately evident, but it bestows upon the object a subtle internal dichotomy. A hand-rubbed paint surface conveys a sense of gentle antiquity, which will only be enhanced with the further passage of time.
Artist
Martin Puryear
Material
Pine and maple with steel rod spine, lathe turned by hand, finished with hand painted milk paint and Japan Color in several color layers/patterns, and hand rubbed
Contributing Gallery
New Museum of Contemporary Art
Date
2015
Dimensions
4.75 diameter x 14.88 in.

Edition #16 of 25 with 10 artist's proofs, numbered, dated, and signed by the artist. Proceeds benefit the New Museum of Contemporary Art. Produced by Lisa Ivorian-Jones for the New Museum of Contemporary Art.
ID
newmuseummp02-ind01
Image credit: Photo: Jesse Untracht-Oakner