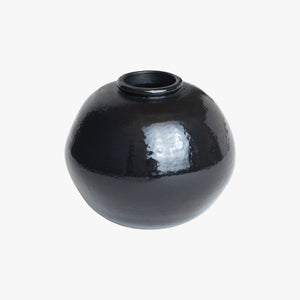 ◄ Overview
Toogood
Moon Vase / Rubber
Faye Toogood has two related careers, either of which would make her one of the most celebrated British designers today. She started out in interiors, initially as a magazine editor for several years; soon after she opened an atelier for the production of furnishings, interiors and subsequently fashion. The two sides of her artistic personality inform and nurture the other; for example, she makes her objects within numbered Assemblages, in a rhythm of ongoing creativity and self-disruption that echoes the collection-based logic of the fashion industry. Forms of particular importance are revisited in the different collections, given different material and aesthetic interpretation; Toogood thus has an ongoing creative conversation with herself. The vase shown here evokes the traditional Moon Jar of Korean ceramics, inverting its white palette into black; visual and tactile nuance is imparted to the surface by coating the handthrown stoneware in a thin layer of rubber.
Artist
Toogood
Material
Stoneware, rubber
Contributing Gallery
Toogood
Date
2019/2020
Dimensions
12.2 diameter x 12.2 in.

The piece will be produced following purchase and ship from London in June/July 2020. Shipping fees will be charged separately.
ID
toogood02-ind01 d
Image credit: